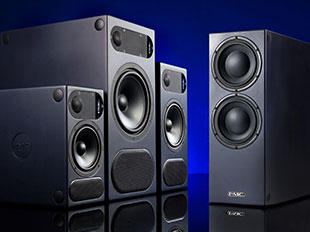 The latest addition to PMC's twotwo range of close-field reference monitor loudspeakers is the twotwo sub1 – a low-distortion active subwoofer featuring PMC's ATL bass-loading, class-D amplification and DSP filtering and bass management,
The built-in amplifier delivers 400W to the sub, which has an active frequency response of 22Hz up to 200Hz. The sub1 can be deployed in a 2.1 configuration with other twotwo series monitors to gain bass extension and headroom, or for the low-frequency effects (LFE) channel in a surround-sound monitoring system.
The two long-throw bass drivers employed in the twotwo sub1 are a bespoke PMC design using natural materials, with a low-mass, ultra-stiff doped-paper cone. The sub1 features an AES3 XLR input with a built-in sample-rate converter that can accept digital signals at any sample rate up to 192kHz. A pair of balanced stereo analogue inputs on XLRs is also available, and both sets of inputs are always active regardless of which sources are connected; switching between the sources is carried out from the rear panel or the optional desktop twotwo remote. The digital input is also passed through to the sub's analogue and digital outputs for connection with other devices, allowing the twotwo sub1 to be used as a high-class D-A to drive other analogue monitors from a digital stream if required. A single parametric equaliser is provided to assist with in-room alignment, and the analogue and digital outputs can be high-pass filtered to feed satellite speakers in a 2.1 configuration.
The cabinet dimensions make the sub1 easier to place than typical cube-shaped subwoofer designs.
More: www.pmc-speakers.com