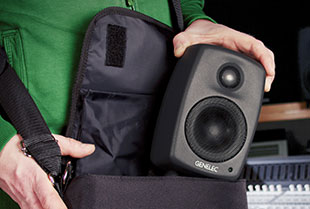 The Genelec 8010 is the smallest member of Genelec 8000 range, aimed at 'music production on the move'.
With the 8000 Series widely used in broadcast, music and postproduction studios worldwide, the 8010 is designed to extend its appeal to a very compact footprint. Suitable for professional work in small studios, the 8010 claims accurate monitoring and ease of installation for small studios, OB vans, and for portable recording devices and other mobile production work.
Featuring a universal power supply, balanced XLR input, 3-inch bass driver, 0.75-inch tweeter and class-D power amplifiers for each driver, it offers a relatively high pressure level for a monitor of its size. Intelligent Signal Sensing ISS circuitry saves energy by automatically putting the monitor to sleep when the audio signal has been absent for a while. Once a signal is detected again, the monitor wakes up automatically. This circuitry can be bypassed when automatic standby function is not required.
A comprehensive range of versatile accessories is available for 8010, which cover all mounting needs. For example, an L-shaped table stand can be used to orientate the monitor and minimise sound reflections.
Key features:
· Balanced XLR input
· 8000-series standard room calibration controls
· Aluminium chassis, protected drivers
· Bi-amplified with class-D power amplifiers
· Intelligent Signal Sensing circuitry fitted (can be bypassed)
· Universal input voltage
· Compatible with 7050 Subwoofer
· Compatible with a wide variety of Genelec mounting accessories
The 8010 Active Monitor will be available early 2014, at an MSRP of US$440.00 each.