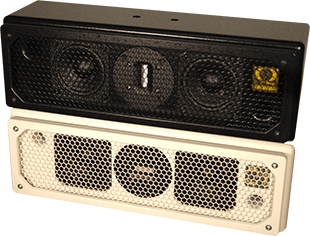 Quested reckons that its LT24 loudspeaker 'signifies a noteworthy change in the company's development in the world of professional audio'.
'Quested has pursued reference performance for more than 20 years,' says Quested owner Guy Lewis. 'During that time, Roger Quested has been asked again and again for speakers that give reference performance over greater distances than are common in studio situations, especially as studio workspaces get more intimate.'
Launched in 2012, the LT10 was the foundation of a new range that has recently been extended with the LT8, and now the twin-driver LT24, with its high-performance 8x38mm ribbon tweeter and custom 4-inch drivers. Additionally, the cabinet's Airflow Technology grille allows 85 per cent clean air movement.
'While our soft-dome tweeters deliver accuracy for studios, the LT models rely on a ribbon technology that gives us the higher SPL needed for longer-throw applications such as postproduction theatres and behind-screen placement,' Lewis says. 'We still spend a fortune on components for the crossover, but people can really hear a difference in the tests we have done.'
The LT24 is shipping now.
More: www.quested.com