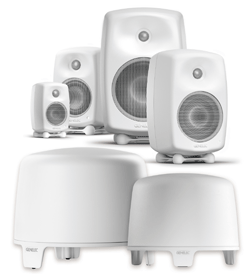 Genelec has announced the G Series of active loudspeakers and F Series of active subwoofers.
The G Series comprises four models – G One (3-inch woofer/0.75-inch tweeter), G Two (4-inch woofer/0.75-inch tweeter), G Three (5-inch woofer/0.75-inch tweeter) and G Four (6.5-inch woofer/0.75-inch tweeter). The F Series includes the F One (with a 6-inch driver) and F Two (8-inch driver). Both feature industrial design by Harri Koskinen and Genelec's R&D team.
The G Series design avoids edges or corners on the enclosure to eliminate acoustic reflections and diffraction. The proprietary Directivity Control Waveguide (DCW) formed around the high-frequency driver is designed to match the frequency response and directivity characteristics of the drivers. This results in a smooth frequency response and controlled directivity, maximising the direct sound delivered to the listening area.
F Series subwoofers are designed to complement G Series loudspeakers. The all-metal construction of hides the driver and connectors on the bottom, leaving the clean form of the enclosure undisturbed. Both models feature connections and bass management for up to 5.1 channels and a comprehensive suite of adjustments for matching to the main loudspeakers and room acoustics.
More: www.genelec.com