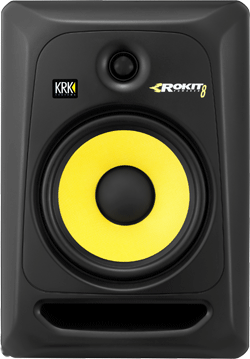 Available in 5-inch, 6-inch and 8-inch options, KRK Systems has released the Rokit Generation 3 (Rokit G3) line of studio two-way active monitor.
The Rokit G3 line features a lightweight yellow composite woofer and uses a tuning process that treats the woofer, cabinet and port as a single, integrated system. Additionally, a re-designed radius cabinet baffle minimises diffraction. Each monitor in the line features an upgraded 1-inch silk-dome tweeter that provides response up to 35kHz, coupled with KRK's proprietary waveguide.
The analogue, bi-amped, class-A/B amplifier has also been enhanced to maximise headroom while retaining minimal distortion.
'We designed the Rokit G3 line not just to the highest sonic standards, but to achieve a level of versatility that allows all users take their mixes to the next level, regardless of musical context,' says Gus Jursch, Director of Operations for Gibson Pro Audio.

'High- and low-frequency amplifier adjustments allow tailoring the monitor to taste, as well as provide a better "fit" to individual room acoustics. The extended, accurate high- and low-frequency response results in mixes that translate over a wide variety of playback systems. The new line maintains the Rokit reputation as being ideal for a wide range of users, from those starting out in desktop recording to pro-level mixing and mastering engineers.'
The KRK Rokit G3 line ships worldwide from September 2013.
More: www.krksys.com