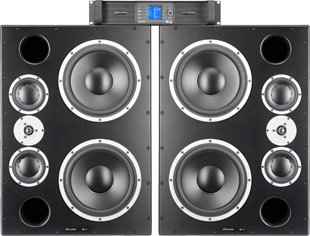 Dynaudio Professional's M3VE main studio monitor system combines driver and cabinet technology from Dynaudio Professional with amplification and signal processing from Lab.gruppen and Lake.
Promising 'a significant upgrade from its predecessor' (the M3A three-way monitor), the speakers are powered by a four-channel Lab.gruppen PLM10000Q amplifier, using the integrated, active crossover between LF and MF by Lake, while passively filtering the MF/HF crossover point.
The difference between M3XE and M3VE is that the latter is powered by a single Lab.gruppen PLM10000Q amplifier rather than two.
Sporting the newest Dynaudio Esotar² driver technology, the full M3VE system has a 22Hz to 21kHz frequency response, and is capable of delivering in excess of 133dB SPL.
M3VE Pricing: US$27,300/€20,300.