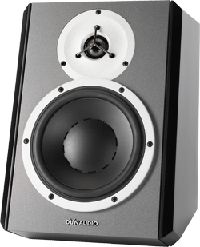 Dynaudio Professional has released the DBM50 desktop monitor.
Featuring a 7.1-inch woofer and 1.1-inch soft dome tweeter, the loudspeaker uses hand-built components from the company's home in Denmark. It offers a 46Hz to 21kHz frequency response.
DBM50 comes with the option of adding a controller that puts the user at the helm of volume control in any situation. Levels can be set and manipulated with completely independent of the computer or workstation in use.
Key Features:
• Angled for desktop mixing.
• Hand-built drivers.
• Optional Master Volume Control.

• 7.1-inch woofer/1.1-inch soft-dome tweeter
.
• 50W+50W
power handling.
• 117dB SPL.
• Frequency range: 46Hz to 21kHz.
• Dimensions: W 437mm, D 410mm, H 435mm
.
Available 
in Q2 2012 in the EU and 
summer 2012 in the US, the DBM50 is priced at 

US$499 MAP each,
 €499 SSP each or
 £415 SSP each. The optional

 Volume Controller is priced at US$69 MAP,
 €69 SSP or £59 SSP.