Dynaudio Professional has released the M3XE monitor.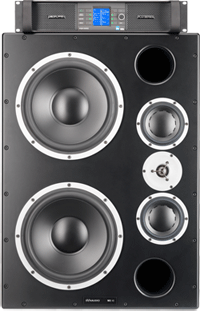 An anniversary edition of the Dynaudio Acoustics M3A three-way studio reference monitor, the M3XE is powered by two Lab.gruppen PLM10000Q amplifiers, offering a 20Hz to 22kHz frequency response and beyond 133dB SPL.
Key Features:
• Unique linear phase frequency response
• Dual 12-inch ESOTAR Woofers, aluminum voice coil
• Dual 6-inch midrange drivers, MSP cone, 75mm aluminum voice coil
• 1.1-inch (28mm) ESOTAR Softdome tweeter, aluminum voice coil
• Max. SPL (short term peak @ 1m): 133 SPL
• Heavy internal damping for minimum cabinet resonance
• Dimensions: 555mm (W) x 775mm (H) x 505mm (D)
• Weight: 132 lbs./ 60 kg.


• 4x 2.3kW (2x 2.3kW woofer, 1x 2.3kW Mid, 1x 2300W HF)
• Input: Analogue, AES/EBU
• Class-TD output stage
• Zero-overshoot, inter-sample voltage peak limiting (ISVPL)
• Lake Processing; Raised Cosine Equalization, Linear phase crossovers.
Available Summer 2012.