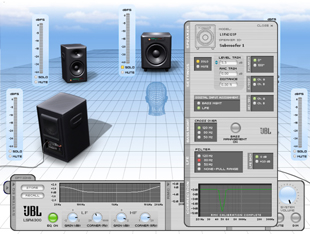 The release of LSR4300 Control Center Software extends control of JBL's LSR4300 Studio Monitors to the Apple Macintosh OS-X Lion platform.
Aimed at computer-based project studios, postproduction and broadcast facilities, the speakers' functions can be controlled from computer-based digital audio workstations.
The LSR4326P (powered 6-inch two-way system) and the LSR4328P (powered 8-inch two-way system) include Harman HiQnet network protocol that enables system-wide intelligence and allows speaker features to be centrally controlled from the mix position by computer or supplied wireless remote control. Control Center software provides control of volume, analogue or digital input source selection, solo, mute and EQ, for all networked speakers, removing the need to purchase an outboard speaker controller. Additionally, the software allows the user to create custom EQ presets, store and recall system configurations and view settings of the RMC system.
'We engineered the LSR4300 Series to address the needs of today's computer recording customer,' said Peter Chaikin, Director of Marketing, Recording & Broadcast at JBL Professional. 'With exceptional accuracy, RMC Room Mode Correction and software control, the LSR4300 Series studio monitors deliver outstanding performance in any room.'
JBL LSR4328P and LSR4326P Series Studio Monitors are available in pair packs that include an accessory kit containing LSR4300 Control Center Software, a calibration microphone, remote control, USB and network cables. Existing users can dowload the new software from the JBL web site.
Download: www.jblpro.com/LSR