Radial Engineering has released the MC3 studio monitor controller – a 'straight-wire' passive monitor switcher and headphone amp designed to provide smaller production studios with a cost-effective, high-performance monitor, sub and headphone management system.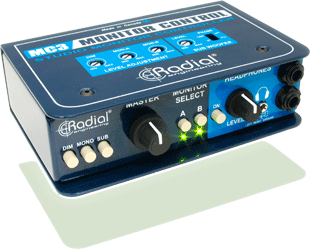 'Smart studios make money by being able to work in all mediums,' says company President, Peter Janis. 'For instance, the ultimate playback can occur on ear buds, headphones, TVs, computers, gaming, car stereos and of course on a sophisticated home entertainment system. Effective mixing requires listening to various types of speakers and headphones to ensure the ultimate mix will translate well and stand up.
'The Radial MC3 is a cost-effective device that enables today's smaller production studios and postproduction suites to properly address the situation. And although there are all kinds of monitor controllers on the market, in our view, many are either overly complex or introduce active circuitry and artefact in between the recording system and the playback monitors. We wanted to bring an affordable solution to the market that would enable the recording engineer to quickly switch between monitors, listen via headphones and be able to turn on or off a subwoofer.'
Designed for active close-field monitors, the MC3 is equipped with two stereo outputs and a separate send to feed a subwoofer. Each may be set using a trim control, allowing seamless switching between loudspeakers. Separate on-off switches allow any or all to be selected at one time and an adjustable dim switch may be activated to temporarily reduce the monitor level. A single control acts as the master for quickly setting the desired listening level.
All monitor switching and level controls are passive, thus ensuring no extra amplifiers are inserted between the source recording system and playback monitors. Unlike active switchers that color the tone, the MC3 is completely passive. In other words, it employs 'straight wires' between the input and output with only gold sealed relays and a variable resistor in between. This ensures the signal coming from the recorder to the monitors is not altered in any way.
The MC3 is equipped with a high-output headphone amplifier that is capable of driving two sets of headphones at the same time. A separate ear-bud output enables connection to iPod-type environments. All outputs may be summed mono for quick phase check and AM radio listening simulation.
As the MC3 is expected to find use in live production, it is manufactured using ultra heavy duty construction. This includes a 14 gauge steel enclosure with a unique protective zone to keep switches and controls out of harms way. All steel cased switches and steel potentiometers provide maximum lifespan while the 100 per cent discrete circuit topology is supported with a dual sided mil-spec circuit board and full ground plane to further reduce noise.
More: www.radialeng.com