Fluid Audio and headphone calibration software company Sonarworks have struck a partnership to deliver a complete pro studio monitoring solution built around the new Fluid Audio Image 2 studio monitor and Sonarworks SoundID Reference. This allows the room calibration software to be integrated directly into the monitors.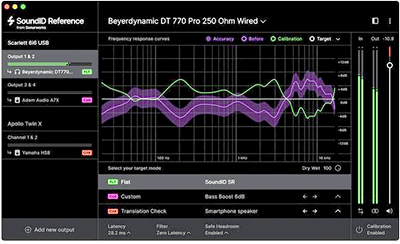 Designed for close-field and midfield use, Image 2 uses the latest in DSP development and class-D amplification to deliver accurate imaging, wide frequency response, high output and low distortion. With its unique styling and compact size, Image 2 is a 'rwo-in-one' monitor – a full range mixing and mastering system that also offers a mixcube mode. Mixcube mode helps dial in low end and mids for 'bass challenged' devices. It also helps adjust the overall balance, depth and vocals – and nail the kick drum.
SoundID Reference delivers consistently accurate studio reference sound across all speakers and headphones. The software is now used in more than 100,000 studios globally, including by Grammy-Award-winning engineers recording A-list stars (Lady Gaga, Madonna, Rihanna, Adele, Coldplay).
In order to extend use of this technology to as many people as possible, Fluid Audio and Sonarworks are including an extended 60-day SoundID Reference trial for Image 2 users.
A measurement microphone is required to perform the measurements necessary to create the calibration profile in SoundID Reference.