Mackie has expanded its CR-X Series of close-field monitors with the CR2-X Cube desktop multimedia loudspeaker, CR2-X Bar Pro desktop soundbar, and CR6S-X powered subwoofer. With features including multiple connectivity options and touch control, the CR2-X Cube incorporates BMR driver technology for clear and accurate sound while finding a space on any desktop or shelf.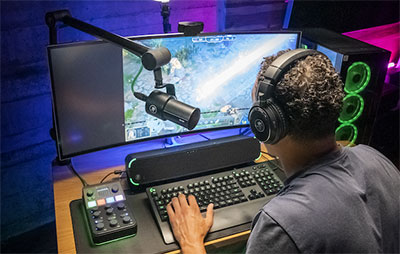 The CR2-X Bar Pro is a premium desktop soundbar, delivering sonic performance in a compact profile that tucks under a computer screen. Like the CR2-X, it uses BMR technology.
Designed to be paired with the CR2-X Cube or the CR2-X Bar Pro, the CR6S-X features a high-output, down-firing 6.5-inch woofer combined with a tuned port to provide deep, punchy bass.
The CR2-X Cube and Bar Pro offer a host of connectivity options – analogue sources can be fed into into the Aux input, while digital connection is via USB-C or wireless Bluetooth. The CR2-X Cube's integrated front panel headphone output gives privacy and personal monitoring, and the Bar Pro gives integrated, selectable RGB LED lighting and a choice of three tone presets for Music, Voice and Gaming. Both feature capacitive touch control for volume and mute, and a built-in subwoofer output and Subwoofer Crossover Mode to tailor bottom end via the CR6S-X or any other subwoofer.
'The CR-X Series has earned a well-deserved reputation as the most bang for the buck among compact studio loudspeakers,' says Product Manager, Tyler Vaughn. 'Now we're bringing that same great sonic performance and compact footprint to the gaming and multimedia space.'
The CR2-X Cube, CR2-X Bar Pro, and CR6S-X are available at an MAP of US$179.99 for CR2-X Cube and CR6S-X, and US$199.99 for CR2-X Bar Pro.
More: https://mackie.com/en/products/desktop-speakers/cr-desktop