Focal is shipping three new studio products, the Alpha 80 Evo and Alpha Twin Evo powered monitors, and the Sub One subwoofer.
The Alpha Evo line and Sub One are aimed at musicians, composers and engineers, promising new features and technologies as well as a fresh design.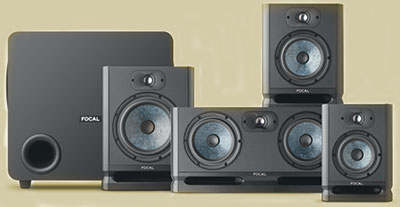 Alpha 80 Evo and Alpha Twin Evo join Alpha 50 Evo and Alpha 65 Evo, released in 2021. With the line now complete, Focal addresses the needs of professionals looking for high volume and low-frequency extension. The monitors use a proprietary Slatefiber cone made by Focal in France from recycled carbon-fibre, employ laminar ports and claim high technical reliability.
Alpha 80 Evo and Alpha Twin Evo boast a new quarter-inch (6.35mm) TRS jack input, a user dis-engageable automatic standby power mode – and on Alpha 80 Evo, inserts for wall and ceiling mounting. The fully analogue monitors are equipped with two class-D amplifiers whose high-current capacity allows full control of signal dynamics. The amplifiers also offer high volumes without distortion.
The new monitors all feature a 5/8-inch thick (15mm) MDF cabinet and incorporate internal braces to ensure minimal resonance, even at the highest levels of acoustic pressure. The bass-reflex design, with a new larger cabinet vent, has been created to ensure easy acoustic integration in most cramped studio spaces. In terms of aesthetics, the traditional cube monitor design makes way for Evo's rounded contours and the side panels create a robust and modern design that contributes to sound and a and harmonious signature look across the Focal collection. And with integrated mounting points, the new Alpha Evo line is perfect for building an affordable immersive mixing system.
Sub One, with its 200W (RMS), is designed to partner any of the monitor models from both the Alpha Evo and Shape powered monitor lines for a 2.1 system, as well as any multi-monitor immersive sound set-up. For the Sub One's speaker drivers, Focal engineers have chosen double-skinned Slatefiber cones: the two aligned cones offer even greater rigidity, ideal for a powerful subwoofer. And Sub One is easily positioned in the studio thanks to its front-firing ports.
The new products will be available for order through retailers in the US and Canada in February 2022, and have suggested retail prices of Alpha 80 Evo US$549 each (US$1,098 per pair), Alpha Twin Evo US$659 each (US$1,318 per pair), and Sub One US$999 each.