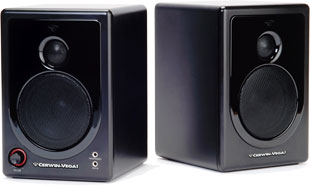 Cerwin-Vega! has released the XD3 Powered Desktop Speaker, 'transforming any desktop work area into a capable listening environment for music lovers, gamers, those enjoying online videos and musicians'.
The XD3 features self-powered cabinets in a master/slave configuration, with low-noise 15W amplifier driving a 3-inch woofer and 0.75-inch tweeter via passive crossovers.
The magnetically shielded XD3 cabinets are 203mm x 140mm x 165mm in size, and is also designed to be a flexible desktop media device by offering external inputs. To this end, a 3.5mm stereo auxiliary input is provided to interface with MP3 players, smartphones and other media sources. A headphone jack allows use of the amplifiers without driving the loudspeakers, maintaining control through the front panel volume adjustments.
Each cabinet weighs 2.9kg.
More: www.cerwin-vega.com