Avantone Pro has introduced the Gauss 7 active full-range, two-way studio reference monitor.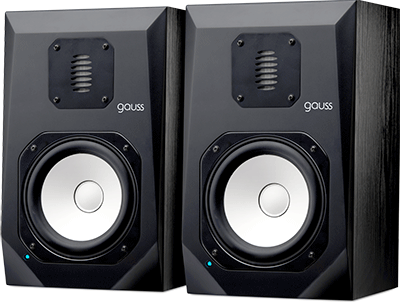 Acknowledging the passing of the Gauss Speaker Company (a division of Cetex Gauss) that gained prominence in the early 1970s through a line of loudspeaker drivers that found use in PA systems, studio monitors and instrument amplifiers, Avantone Pro's Gauss 7 is a bi-amped, class-D, full-range, monitor. Its custom GAU-AMT tweeter is paired with a 7-inch GAU-7MLF low-frequency driver.
The transient response of the GAU-AMT tweeter comes courtesy of a 65mm PET (Polyethylene Terephthalate) film-folded membrane, exceeding that of typical dome tweeter designs. The tweeter's has a HF extension of 22kHz, and is mounted in its own enclosure to prevent backwave pressure from the woofer.
Gauss 7 uses the AV10-MLF 'white cone' construction found in the company's CLA-10 series' AV10-MLF woofer, claiming LF extension to 30Hz. The woofer's motor structure is made of low-carbon 1008 steel, providing the highest magnetic flux density between the pole pipe and the top plate, and its surround is made from a Japanese uni-directional SBR (Styrene-Butadiene Rubber).
The design uses a 120W low-frequency amplifier power and 60W high-frequency amplifier power, delivering 103dB peak SPL and 0.5% THD. Connection is via balanced XLR and quarter-inch TRS inputs. A three-position Acoustic Placement switch allows optimisation to boundary spaces within that room, while a three-position High Trim switch helps to refine additional room issues. These are accompanied by a gain control for system calibration.
Its enclosure measures 381mm H x 235mm W x 212mm D (15-inch H x 9.25-inch W x 8.35-inch D) and weighs 8.2kg (18lbs).
Gauss 7 will ship globally in early June 2021, with a MAP of US$799 per pair. (€799 excluding VAT).
More: www.avantonepro.com