Focal has announced the Alpha 50 Evo and Alpha 65 Evo monitors, replacing the current Focal Alpha 50 and 65 models in the Alpha Evo range for mixing, mastering, broadcast and DJs. The current Alpha 80 remains available.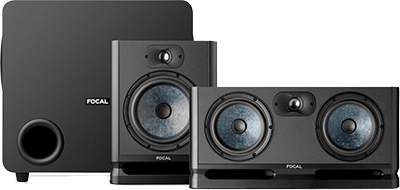 Focal has evolved its Alpha range with the Alpha Evo, adding features, and updating their technologies and design. For renewed performance, Focal has chosen an aluminium inverted dome tweeter for is dispersion characteristic, and a Slatefiber cone – a recycled carbon cone, produced exclusively by the French brand at its Saint-Étienne workshops – for its neutrality and dynamics.
The Alpha Evo monitors boast a new quarter-inch (6.35mm) TRS input jack in addition to the XLR and RCA analogue inputs; an automatic standby mode that can now be switched off by the user; and inserts for wall and ceiling fastening. The monitors are each equipped with two class-D amplifiers. The high current capacity of these amplifiers allows full control of the signal dynamics. They also allow high volumes to be reached without distortion.
The monitors feature a 15mm MDF cabinet and incorporate internal braces to ensure it is highly robust, even at the highest levels of acoustic pressure. The bass-reflex design has been used to ensure easy acoustic integration in even the most cramped spaces. In terms of aesthetics, the traditional cube monitor shape makes way for rounded contours. The side panels present a 'sophisticated, robust and modern design that contributes to excellent acoustics and a unique and harmonious signature style across the collections'.
Key features:
Wide dispersion.
Slatefiber cone manufactured in France.
Consistent tonal balance at low and high levels.
Connect up to three audio sources.
Inserts for wall fastening.
Automatic standby mode can now be defeated.
Protective grilles.
The Focal Alpha Evo line has suggested retail prices of Alpha 50 Evo US$349 each, and Alpha 65 Evo US$449.each.