Adam Audio has released the A77X close-field and midfield monitor.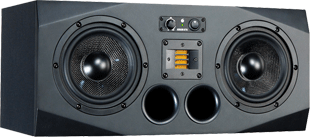 Like all models in the company's AX series, the A77X features the proprietary X-Art tweeter, using Adam's Audio's Accelerating Ribbon Technology. In addition to its high efficiency and SPL capabilities, this extends the loudspeaker's response up to 50kHz.
The two 7-inch woofers are identical to the A7X model, with large (1.5-inch)voice coils. The woofers do not cover the same frequency bands, however. Adapting the familiar horizontal D'Appolito arrangement, both are responsible for sub/bass frequencies up to about 400Hz, but only one reproduces the midrange preventing interference between the two drivers.
Each driver has its own dedicated amplifier. A 50W class-A/B amplifier is responsible for the X-Art tweeter, while the bass/mids are driven by a 100W PWM amp each.
The front panel includes a power switch and a control for the volume that retains the volume setting independently from the on/off switch.
The rear panel features a gain for the high frequencies (±4dB) and two shelf filters for high and low frequencies. To ensure connectivity, there are both XLR (balanced) and RCA (unbalanced) connectors.
More: www.adam-audio.com