Genelec has released v3.2.0 GLM software for its Smart Active Monitor loudspeaker range, bringing compatibility with a wider range of Genelec models including the latest additions to The Ones range of point source monitors – the 8351B and 8361 coaxial three-ways and the complementary W371 Adaptive Woofer System.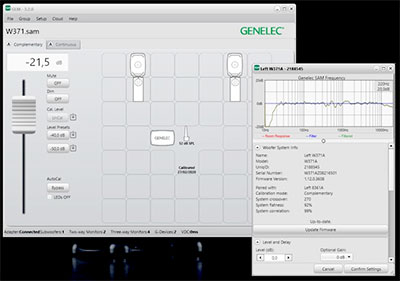 Owners of the new W371 are now offered a number of sophisticated features in GLM that allow complete user control of the way in which the W371 and The Ones' performance can be tightly integrated – including a WooferCal page which, after room calibration, allows selection of the W371's Complementary, Continued Directivity or Anti-Reflection modes, plus selection of the crossover frequency search range between the W371 and the main monitor.
Users are then able to analyse both System Flatness and System Correlation, which indicates if the monitoring system is sufficiently optimised for the room, or whether some further adjustment to the listening or monitor positioning is required.
Other new GLM features in v3.2.0 include the selection of AutoCal Cloud as the default automatic room calibration mode – with an option for local optimisation if preferred – a new Subwoofer & Monitor pair indicator, improvements to the GLM Level Panel and support for a six-button wireless volume control.
GLM 3.2.0 also includes important firmware updates for the Genelec 8331A, 8341A, 8351B, 8361A and 7382A models, and the GLM network adaptor.
More: www.genelec.com/glm