Danley Sound Labs has launched the Studio 1 passive close-field monitor, Studio 2 active close-field monitor, and Studio Sub subwoofer.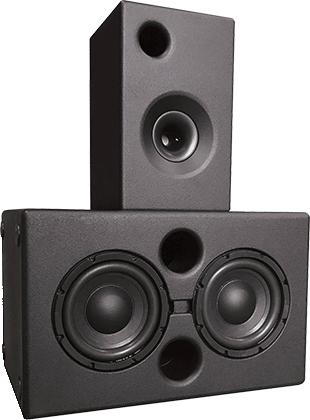 With the new line, Danley has applied its proprietary Synergy Horn technology to the studio monitor market. The Synergy Crossover design to assures a linear frequency response and also a linear phase response The Studio 1 has a smooth response from 63Hz to 20kHz, using just a single 6.5-inch coaxial driver. In operation, it requires just one amplifier channel and little, if any, processing.
The Studio 2 houses a matched amplifier and is designed to be stand-alone box with no need for an external sub. Powerful on-board processing as well as having analogue, digital balanced XLR inputs as well as RCA inputs, makes this an easy product to upgrade to.
The Danley Studio Sub uses two 8-inch woofers and Danley's design to deliver low distortion down to 33Hz. Coupled with surprising high output, the Studio Sub is tailor-made to pair with the Studio 1 but can be used with any close-field monitor.
'For Tom Danley, creating the Studio 1 monitor and the Studio Sub was a true labor of love,' says Danley Sound Labs President, Mike Hedden. 'Tom created them because of a burning desire to deliver something to the studio market they've never experienced before. The Synergy Horn technology has made huge strides into the installed, live sound and cinema markets. It was a logical progression to bring Synergy Horn technology to a market in need of true innovation with a product that surpasses the capabilities of the competition.'
More: www.danleysoundlabs.com