Providing 100° of horizontal dispersion, the Ocean Way Audio HR5 studio monitor loudspeaker claims to have the largest sweet spot of any system available today. If with an engineer perfectly placed in front of the speakers, everyone else in the room hears the same balance and tonal qualities.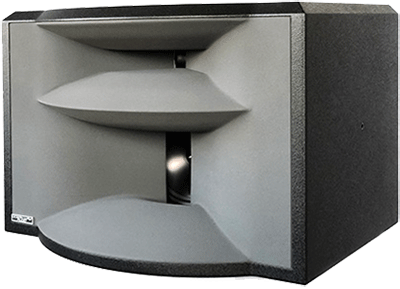 Ocean Way's exclusive technology uses patented twin constant directivity HF and low-band horns with exceptional driving elements. The HF and low-band horns are milled out of solid blocks of wood and are totally non-resonant, resulting in greater efficiency in their respective bands as compared to conventional direct radiators. This extra efficiency means the respective bands don't have to work as hard, even at the loudest levels, and require half of the power of conventional direct radiating components. This translates into very low distortion even at high volume levels.
The high frequency driving element uses a 1-inch silk dome with aluminium voice coil in a magnetic structure so unlike conventional horn drivers it has no phase plug and hence significantly lower distortion. With 1W input at 1kHz, the HF section produces 104dB at 1m. The HF section is driven by a separate 90W amplifier.
Another important aspect to the HR5's performance is the ability of each of its HF and LF components to all perform above and below their respective crossover points. This, and the fact that the HF and LF band components are in exact physical time alignment and have horns with identical flare rates provides a virtually perfect transition between all ranges. Even if the listener is one foot from the HR5, the transition between the components is inaudible, resulting in one unified congruent sound.
Also to be made available soon is a small companion Ocean Way Audio subwoofer, transforming the HR5s into a three-way monitor system and extending its bass response to 25Hz.
The Ocean Way Audio HR5 carries an MAP of US$1,399.50 each or US$2,799 per pair.