Aimed at project studio use, KRK Systems released two powered subwoofers, the KRK12sHO and KRK12s, at Pro Light & Sound.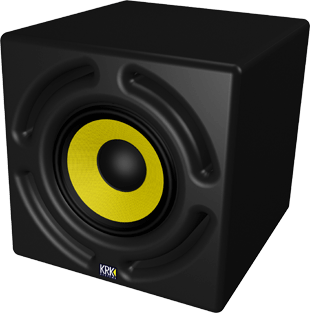 The KRK12sHO is 'designed to be the workhorse subwoofer for music production where a precise representation of the bass frequency spectrum is a necessity'. With extension to 29Hz, the KRK12sHO powered subwoofer is well suited to surround sound work, making it a match for KRK's Exposé or VXT8 monitors driven to high sound pressure levels. While subsonic frequencies are heavily implemented in some musical genres, all studios benefit from the use of a sub to monitor this low frequency content. The KRK12sHO brings big system performance to any studio environment where accurate bass extension and maximum sound levels are required.
The KRK12sHO cabinet features a 12-inch high excursion woven Kevlar driver cone set in a curved baffle front plate designed to virtually eliminate diffraction distortion. A front-firing port extends low-frequency reproduction while reducing boundary coupling and port turbulence. The integrated power amplifier delivers 400w RMS performance yielding a sound pressure level of 113dB music and 116dB peak. The crossover is a fixed high-pass 80Hz with a subwoofer low-pass filter control variable from 60Hz to 160Hz, giving the KRK12sHO a frequency range of 29Hz to 160Hz. The cabinet features combi-jack inputs, thermal and overload/clip protection, LFE input gain, XLR outputs, a special subwoofer/line bypass footswitch connection, phase reverse switch and variable phase adjust capabilities.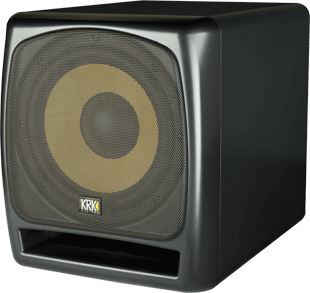 The KRK12s powered subwoofer supports frequencies down to 34Hz from a 12-inch, Kevlar woven, high-excursion driver cone. The internally mounted 225W RMS power amplifier delivers 110dB music and 113dB peak sound pressure levels. The line out, high-pass crossover is fixed at 80Hz with a subwoofer low-pass filter variable from 50Hz to 130Hz. The cabinet features XLR, quarter-inch TRS and RCA inputs, and XLR and RCA outputs, a system volume control with a range of -30dB to +6dB, subwoofer/line out bypass, phase reverse switch and ground lift switch.
'Our engineers designed the KRK12sHO and KRK12s to redefine sound in studio environments,' says KRK CEO, Timothy Dorwart. 'Studios have conformed to the changing landscape of sound production, now offering a diverse portfolio of options for stereo and surround sound music, as well as film and broadcast productions. As more and more music is being produced out of smaller commercial and project studios, the need for high-quality subwoofers that are compatible with today's playback systems is increasing. These subs are engineered to fill this growing need with high performance and value.'
More: www.krksys.com