KRK Systems has introduced the Rokit RP10-3, a mid-field, three-way studio monitor loudspeaker, at Musikmesse.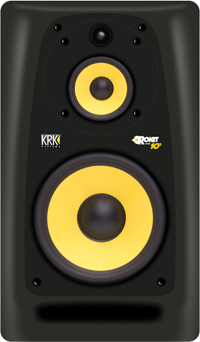 Aimed at commercial and private studios, the design uses Glass Aramid Composite 10-inch low and four-inch mid-frequency drivers, and uses an integrated low-frequency driver and cabinet to give bass extension to 35Hz
To accommodate any speaker mounting configuration, a crucial consideration for a smaller control room, the RP10-3 allows the mid-range/tweeter assembly to be re-positioned for horizontal speaker placement. This preserves the correct axis orientation, while allowing set-up flexibility. Cabinet placement allows for a generous 1-4m for rated performance and the contoured baffle design virtually eliminates high-frequency diffraction distortion and widens the sweet spot for mixing.
The KRK High Efficiency Tri-Amp amplification system provides discrete, low-distortion power, while the three-way crossover systems ensure smooth and accurate frequency response appropriate to each component. The cabinets are capable of delivering a clean 140W RMS with a signal to noise ratio of 98dB and a THD of .08 per cent. This amount of power yields up to 110dB music and 113dB maximum sound pressure levels to accommodate a wide range of listening levels for high dynamic tracks for all genres of music.
'Most professional and commercial facilities offer clients a broad choice of close-to-mid-field monitors in addition to main monitors so that they can test their mixes across several environments from cars to clubs. However, in the private, project and home studio environment one monitoring system might have to do it all,' says Timothy Dorwart, CEO of KRK Systems. 'In the Rokit RP10-3, KRK engineers have created a cost-effective monitor with the extraordinary overall performance for which the Rokit line is known. The smaller studio no longer has to sacrifice quality and accuracy because of budget constraints. We believe the Rokit RP10-3 will have a significant impact on the market.'
More: www.krksys.com