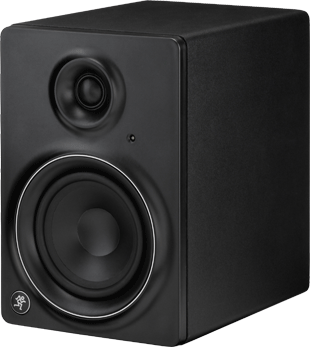 Mackie has unvelied a 'complete redesign' of its powered studio monitors – the MRmk2 Mackie Reference Monitors.
The MRmk2 feature all-new transducers specifically designed to match their respective amplification. Both models in the line use a 1-inch neodymium magnet-driven soft-dome tweeter featuring ferro-fluid cooling. The 5.25-inch (MR5mk2) and 8-inch (MR8mk2) hyperbolic-curved cone woofers reduce severe cone resonances, minimising distortion.
The class-A/B amplifier section features XLR, TRS and RCA connectivity, along with user-adjustable acoustic controls for simple room correction. The cabinet is rear-ported and features an optimally-sized custom Waveguide and molded baffle, offering balance to the HF/LF content while increasing both the stereo imaging and depth of field.
The Mackie MRmk2 Series Powered Studio Monitors are now available worldwide.
More: www.mackie.com