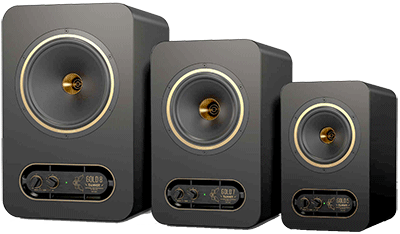 Building on the company's history of studio monitoring, Tannoy has introduced the Tannoy Gold series, 'the next generation of premium nearfield monitor'.
The line feature three models – the Gold 5, Gold 7 and Gold 8. While the Gold 5 carries a power handling capacity of 200W and is loaded with a 5-inch bass driver and 0.75-inch tweeter, the 300W Gold 7 and Gold 8 use a 6.5-inch driver and 1-inch tweeter, and 8-inch driver and 1-inch tweeter respectively.
According to Tannoy, the line is 'engineered to the highest standards and build quality, to provide the most powerful, accurate and uncolored representation of your music.' The Gold 5, Gold7 and Gold 8 will ship with MAPs of US$250, US$315 and US$385.
Key features:
Dual Concentric driver technology.
Front-firing bass port.
Titanium tweeter with Tulip waveguide.
Class-AB amplification.
Transducer-matched LF and HF bi-amplification.
Dedicated input trim, bass and treble controls.
Selectable automatic standby mode.
More: www.tannoy.com