RCF has updated the Ayra line of close-field studio monitors with three new Ayra Pro models and subwoofer, and announced the MC-1 Monitor Controller.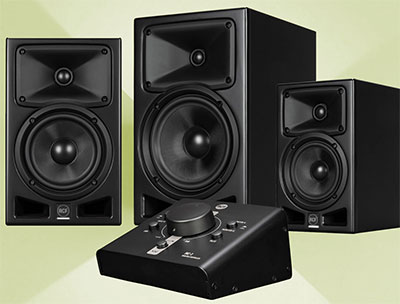 The Ayra Pro full-range Pro5 (5-inch woofer), Pro6 (6-inch) and Pro8 (8-inch) are joined by the Pro10Sub (10-inch subwoofer) use class-D amplification delivering 100W, 120W and140W respectively, and 300W for the subwoofer. All models have onboard DSP and use RCF's proprietary low-latency FiRPhase algorithm.
FiR filtering technology helps develop coherent sound without phase distortion. The use of the FiRPhase algorithm provides greater detail than was possible with the earlier Ayra models.
To complement the Ayra Pro line, the tabletop MC-1 Monitor Controller is a passive system manager designed to handle two pairs of stereo monitors. It features two stereo inputs on TRS/XLR connectors for Input A and TRS and mini-jack for Input B, as well as two pairs of XLRs for output. Also featured is a Dim/Mute button, reducing the sound by -20dB, a mono switch, and a central knob for level control.
More: www.rcf.it