Dynaudio has announced a new line of professional reference speakers, comprising the three-way Core 59 and the two-way Core 7.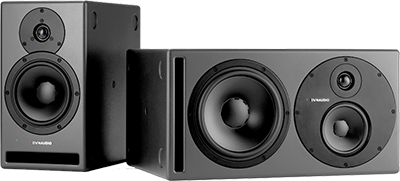 'The range uses our most advanced drivers – including all-new tweeters that feature the ingenious new resonance-defeating Hexis inner dome – plus innovative new DSP technology for even more features and surprising ease of use,' says Dynaudio Pro Product Manager, Rune Jacobsen. 'In short, extreme consistency between speakers and intelligent, flexible cabinet design – plus the best digital amplifiers we've ever heard – bring the pinnacle of honesty, consistency and reliability to your studio.'
Both Core 7 and Core 59 have digital inputs (AES3) and support up to 192kHz, 24-bit audio, and the internal DSP (digital signal processor) operates at the same level when using the analogue inputs.
The series is designed for extremely flexible positioning. Depending on the studio environment, monitors might need to be placed sideways or upside down, which might mean less-than-perfect contact with the surface area. Core solves this issue with four indentations on each side and a set of Dynaudio-developed pads to fit them.
In addition, the three-way Core 59 features a rotation flex system – the Orbit – which has been adapted from Dynaudio's Air series. It lets users rotate the plate that holds the mid/woofer and tweeter to suit either vertical or horizontal positioning. The Orbit has been improved significantly since the original with developments including an acoustically optimised back chamber.
Core also features Pascal class-D amplifiers chosen after a series of intensive listening tests.
The Core range is scheduled to ship in Q2 2019.
More: www.dynaudio.com