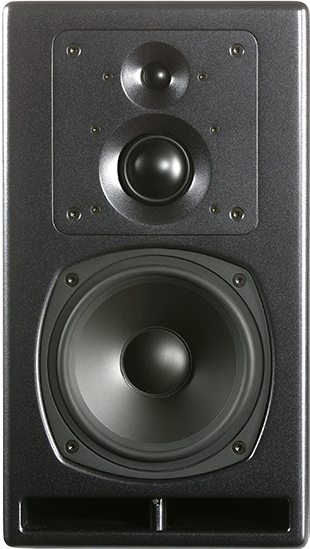 PSI Audio has announced the three-way A23-M monitor loudspeaker.
Positioned between the two-way system A21-M and the larger three-way speaker A25-M, the A23-M is intended for close-field and mid-field applications. It uses established PSI Audio technologies like Adaptive Output Impedance and Compensated Phase Response and combines them with a new precision midrange driver. With a frequency response down to 35Hz (at -6dB), the A23-M is a full-range monitoring system that can, but does not need to be enhanced with a subwoofer like the A225-M.
The speaker design of the PSI Audio A23-M is new, with the mid driver developed by PSI Audio and made by hand in the company's facility in Switzerland. The tweeter and mid-range driver are mounted on a square baffle that can be detached from the housing and rotated to allow the cabinet to be deployed horizontally or vertically.
The mid driver is complemented by technological advances PSI Audio has already used in its range of precision monitor speakers. Adaptive Output Impedance (AOI) monitors membrane movement in relation to the incoming signal, allowing exceptionally precise sonic reproduction. Compensated Phase Response (CPR) ensures all spectral elements of the incoming signal are time-aligned so no unwanted alteration of the source material can occur. Class-G/H amplifiers combine class-AB advantages with lower distortion and increased efficiency.
The PSI Audio A23-M will be available from Q2 2019.