To be unveiled at the forthcoming Pro Light & Sound show in Frankfurt, the 1238CF three-way monitor is the latest in Genelec's DSP range of monitors.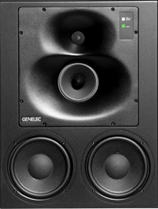 'The new model builds on the strengths of our compact three-way analogue monitors and, by adding DSP, digital signal processing, with the Genelec's AutoCal calibration functionality give the product the widest possible appeal,' says Marketing Manager, Terho Savolainen.
Designed for a wide range of professional applications, the 1238CF is also compatible with proprietary Genelec Loudspeaker Manager (GLM) control software and can be combined with Genelec 8200/7200 Series products in the same control network.
The automatic control and calibration functionality provided by the GLM software with the Genelec AutoCal algorithm allow for precise matching of the loudspeaker system to different acoustic conditions with just a few mouse clicks. The rugged amplifier unit is mounted into the enclosure with vibration isolators which also act as quick release hinges making maintenance operations very easy and straightforward. Furthermore, the loudspeaker cabinet is constructed of painted MDF, which is heavily braced to eliminate structural resonances.
The Directivity Control Waveguide (DCW) Technology developed by Genelec provides strong stereo imaging and frequency balance even in difficult acoustic environments. The DCW of the 1238CF is identical to the one in the 1038B three-way monitor, providing the same imaging It is designed to perform well both as a free-standing monitor and flush mounted into the control room wall. When flush mounting the loudspeaker, the space behind the loudspeaker enclosure must be sufficiently ventilated in order to dissipate heat generated by the amplifier unit located at the back panel of the loudspeaker.
More: www.genelec.com