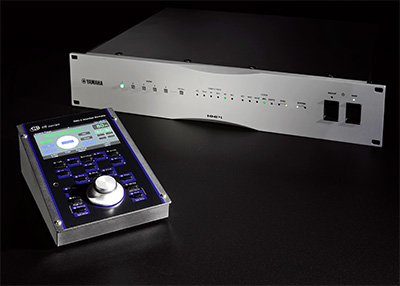 New v1.1 firmware for the Yamaha MMP1 studio monitor management system adds a range of refinements, including support for the CB Electronics TMC-1 monitor controller.
The MMP1 is an innovative signal processor that incorporates advanced monitor control and a comprehensive range of audio processing functions, to support contemporary production workflows, in one compact rack unit.
In addition to a 40 x 36 monitor matrix – which allows flexible configuration of main monitor, cue and other audio I/O – the MMP1 includes a 32 x 32 speaker management matrix with time alignment functionality and FIR crossover filters. The v1.1 firmware update adds remote control support for the TMC-1 monitor controller from CB Electronics. With the new firmware, the TMC-1 can be used to remotely control MMP1 monitor source selection, speaker system selection, levels, mute and dim. Used in conjunction with the MMP1 Controller app for iPad, this provides convenient access to a wide range of detailed settings, for a more efficient, productive monitoring environment.
Other v1.1 refinements to the MMP1 include: pop-up EQ graphs and meters that can be rearranged in the editor window, expanded lip sync delay time (up to 300ms), SPL parameter lock to prevent accidental changes, expanded GPI assignments and meters that can be rearranged as required.
The MMP1 v1.1 update will be available as a free download from the Yamaha Pro Audio website in Q3 2018.
More: www.yamahaproaudio.com