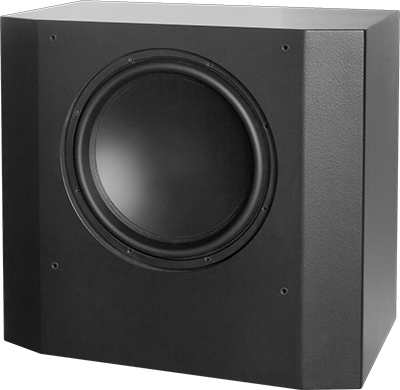 The Alcons CRMS-LFE18 is a large-format reference subwoofer system for demanding listening applications, including LFE systems for quality-conscious postproduction and mastering, high-end mix/screening rooms, recording studios and premium home theatres.
The direct-radiating 18-inch transducer mounted in the internally-stiffened, sealed cabinet enables an in-room response below 10Hz. The fast impulse response is a perfect match with the ultra-fast transient response of the Alcons pro-ribbon systems. The 4Ω impedance caters for maximum amplifier efficiency. For optimum system performance, the CRMS-LFE18 can be driven and controlled by the ALC amplified loudspeaker controller. The integrated factory presets in the drive processor of the ALC offer optimisation settings, as well as VHIR processing for perfect phase-matching with an Alcons pro-ribbon system.
The Signal Integrity Sensing pre-wiring automatically ensures complete cable/connector compensation between the CRMS-LFE18 and ALC, significantly increasing response accuracy and reducing both linear and nonlinear distortion to an absolute minimum, regardless of cable length and system impedance.
The CRMS-LFE18 is also available in a slim enclosure (CRMS-LFE18sl), for space-efficiency with the Alcons slim-sized main systems.
'We have spent quite some time on the development of this 18-inch transducer, as it required totally different parameters than our maximum output PA transducers,' says Alcons Head of R&D, Phil De Haan. 'We really wanted to get into the single-digit frequency domain with this subwoofer, with the typical Alcons non-compromise quality standard. We developed the 18-inch woofer with a large motor structure with dual 3-inch voice-coils, so we were able to reach an extreme excursion of 30mm. resulting in a 10dB more excursion capability than with a traditional PA 18-inch woofer.
'Driven by the ALC, with our new VHIR processing and the SIS sensing circuit, the CRMS-LFE18 is designed to deliver the most accurate reproduction for even the lowest octaves, in combination with our CRMS pro-ribbon main and surround systems. The feedback we receive from the very first customers is, they believe it brings the most realistic experience of speech, music and effects, as it was intended – and that's exactly what Alcons is all about.'
More: www.alconsaudio.com