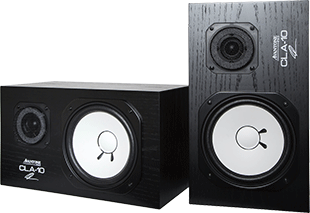 Avantone Pro – the US company behind the Avantone Active Mixcube – has announced the CLA-10TM a full-range, two-way passive studio monitor.
Endorsed by mix engineer Chris Lord-Alge – whose signature graces the fascia – the CLA-10M is 'a very accurate recreation of an iconic studio monitoring mainstay' and visually resembles Yamaha's discontinued NS-10M. It uses a 10.4-litre sealed cabinet constructed of non-layered, high-rigidity MDF and finished with an outer layer of wood veneer loaded with a 35mm AV10-MHF silk-dome tweeter (60Hz-20kHz) and 180mm LF driver voiced match the 'classic sound'.
Developing the Pro CLA10 involved sourcing the original speaker pulp manufacturers and remaining faithful to the voicing, frequency response, dimensions and power requirements of the original design. Additionally, Avantone intended to make the design as repeatable as possible to ensure uniform voicing, frequency and build quality across every new speaker manufactured. In place of the lapped seam technique used in the original woofers, the CLA10's cone is machine-pressed to achieve the same frequency response and speed of movement, every time. Better quality internal crossover components have also been selected, and the banana plugs at the rear of the MDF chassis have been upgraded with modern fittings for longer life and improved ease of use.
With the knowledge that the NS10M model had varied so much between different production batches, a stage of mass testing through one of the world's largest collection of vintage NS10 units was undertaken to ensure that the new voicing was faithful to the broader NS10 range as a whole rather than an isolated batch (or pair).
The CLA-10TM ships in Q3 2018 priced at US$699.00 per pair. UK distribution is via SCV Distribution.