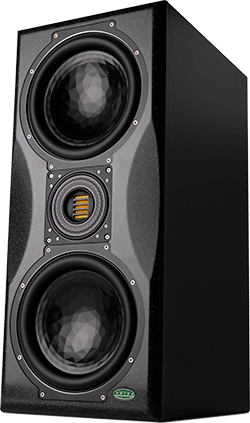 Unity Audio has announced the Boulder MkIII reference studio monitor, claiming a faster, more accurate detailed sound and greater SPL over its predecessor.
The MkIII model further redefines levels of sonic performance and accuracy for the system and fits into any critical listening environment or scenario. The new surface of the precision built German Crystal Membrane uses aluminium-foil stamping to stiffen the aluminium dome, diminishing resonances and minimising colouration, while improving power handling and dynamics. The voice coil design of the bass drivers results in an expanded range of the respective drivers by nearly an octave down to 36Hz at -3dB.
The centrally-mounted compact Coaxial X-Jet 5-inch mid-range driver and 50kHz folded ribbon tweeter design assures true point source phase accurate delivery across its entire frequency spectrum from 694Hz to 50kHz.
The compact design claims point-source phase accurate delivery across its frequency response, eliminating phase rotation and frequency anomalies. The result is accurate imaging and detail, significantly improved impulse and power control providing much improved dynamic range and an even frequency response and dispersion throughout the listening space. The the concentrically located Jet5 ribbon tweeter uses folded ribbon technology for a wide, smooth dispersion and flat frequency response exceeding 50kHz.
The MkIII is fitted with two 300W class-D amplifiers with a separate power supply specifically for the two Crystal Membrane woofers, while retaining its two discrete custom Class A/B amplifiers with their own dedicated power supply for the Coaxial X-Jet mid-range/ribbon tweeter.