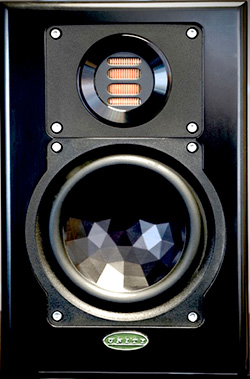 The Mini-Rock 2 is the smallest model in Unity Audio's professional active monitor range.
Measuring 279mm high, 184mm wide, 256mm deep, the shares the same 50kHz folded ribbon tweeter that is used in the larger Rock and the three-way Boulder, but has a new crystal membrane woofer measuring 150mm. The cabinet retains the same trademark sealed design of all models in the Unity Audio range but is the first monitor (with the exception of the Avalanche subwoofer) to use a split dual-chamber cabinet with an Aperiodic Vent. This delivers the benefits of a sealed cabinet – such as zero port noise and tight fast accurate bass reproduction – and significantly increases the bass response available from a smaller cabinet design.
The speaker's crystal-shaped inverse aluminium dome is joined to a paper cone in a special gluing process to result in the desired sandwich construction. The crystal cone aluminium-foil stamping stiffens the dome, diminishing resonances and minimising colouration, while improving power handling and dynamics. The voice coil design of the woofer results in an expanded range of the respective drivers by nearly an octave. The Mini-Rock also uses two 180W class-D amplifiers one per drive unit, which also includes DC protection.
'It sounds way bigger then it looks,' says Unity Audio MD, Kevin Walker. 'It's totally balanced in an un-hyped way. A custom input/crossover has been designed providing a rear panel volume control. The class-D power supply provides switchable 115V-230V operation. The stereo imaging, staging and placement are outstanding, with 3D like quality to the ambience and reverb tails.'
The Mini-Rock cabinet also has mounting points for third party yokes and brackets for the installation market.