Dynaudio Pro has released the 9S and 18S long-throw subwoofers for stereo and surround-sound monitoring applications.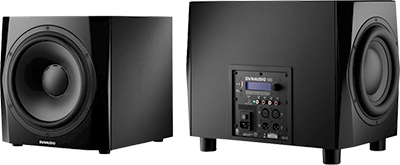 The first new subwoofers for studio monitoring to come from the company in ten years, these use 9.45-in (240mm) drivers with frequency handling of 16Hz–175Hz – the 9S features a single driver, while the 18S has two in a push-push opposing design with a driver on each side.
Powered by a high-end 300W class-D amplifier, the 9S long-throw driver delivers low-end extension and SPL performance that significantly outperforms the BM 9S II it replaces, while still preserving detail and precision. The 18S is powered by a 500W amplifier and features a powerful DSP engine and built-in presets for Dynaudio Pro studio monitors, as well as time-alignment functionality and a three-band EQ to defeat specific room modes.
The new subwoofers use double front baffles, adjustable low-pass filters from 50Hz to 150Hz and SAT output with defeatable high-pass filter, all of which is housed in sealed cabinets. They also have a signal-sensing auto-power circuit that saves energy when not in use, and for larger rooms, it is possible to daisychain more 9S or 18S subs, with the first unit controlling the overall volume for all subs.
'The 9S is just as compact as our BM 9S II sub, yet with a performance that is comparable to the larger BM 14S II sub,' says Rune Holst Jacobsen, VP of Sales, Dynaudio Pro. 'Regardless of whether you add it to a Lyd 5, 7 or 8 stereo or surround set-up – or use it with our classic BM series of studio monitors – it delivers a full, yet focused and revealing performance.
'You will be able to make accurate mixes that translate great to any format and playback system. And, further, if you couple the 18S with Lyd48, you'll essentially have a powerful four-way monitoring system that's equally capable of delivering high SPL and low-volume precision.'
More: www.dynaudio.com