Studio monitor loudspeaker specialist Dynaudio has announced series of high-performance, custom installation in-wall and in-ceiling speakers.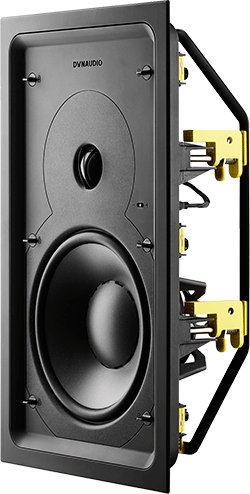 The Studio Series, the first offering in Dynaudio's Custom Install architectural loudspeaker range provides integrators with flexibility to accommodate challenging listening environments. It includes two round in-ceiling models, the S4-C65 and S4-C80, and two rectangular in-wall models, the S4-W65 and S4-W80. Both the in-ceiling and in-wall models can either be pre-installed or retrofitted into existing cavities for remodels.
The speakers' low-profile slim bezels and paintable grilles can be matched to room décor and attach magnetically to provide 100 per cent coverage. A round grille is supplied as standard with the in-ceiling models, with square grilles available as an option.
The Studio Series S4-C65, S4-C80, S4-W65, and S4-W80 are designed with dimensions similar to those of other architectural loudspeakers, allowing integrators to use them to upgrade audio system installations and incorporate higher-performance loudspeakers into existing cutouts.
All models simplify installation with a patent-pending two-piece tool-less mounting system. The pre-installation frame mounts quickly and firmly into the speaker cutout via auto-locking clamps, and the speaker unit housing the baffle, drivers, and crossover mounts securely within the frame via a locking drop-stop latch system.
To facilitate flexible speaker placement and optimal sound directivity, the in-ceiling models feature an 18° fully rotatable 6.5-inch (S4-C65) or 8-inch (S4-C80) mid/bass driver mated to a 1-inch tweeter with three-position adjustable tilt and a high-frequency level (±3dB) switch. If the room arrangement should change, installed in-ceiling speakers can be adjusted simply without any repositioning of the mounting frame.
Each Studio Series speaker model boasts Dynaudio's specially coated soft-dome tweeters and proprietary magnesium silicate polymer (MSP) woofers with geometrically optimised one-piece diaphragms and large-diameter, lightweight aluminium voice coils.
'The new Custom Install range harnesses the core technology, expertise, and fanatical attention to detail that's made our hi-fi range so celebrated over the past 40 years,' says, Dynaudio Americas CEO, Andrew Werdean. 'The Studio Series maintains the same quality standards of our home and professional audio products, ensuring that homeowners will enjoy an authentic and immersive listening experience.'
More: www.dynaudio.com