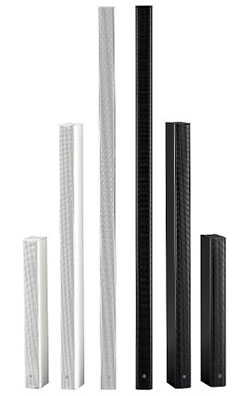 Promising high-quality audio with visual discretion, Yamaha Commercial Audio's new VXL1 range column loudspeakers are aimed at spaces such as houses of worship, boardrooms and lecture theatres.
The VXL1 range is based on multiple arrays of the same 1.5-inch driver that is at the heart of Yamaha's VXS1ML speaker. Featuring IP35-rated, paintable enclosures in black or white, the VXL1 series includes the VXL1-8 (featuring eight full-range 1.5-inch drivers), the VXL1-16 (16 full-range 1.5-inch drivers) and the VXL1-24 (24 full-range 1.5-inch drivers). Each speaker is supplied as a Lo-Z unit (a Hi-Z option is available).
All models measure just 54mm/2.1-inch wide by 103mm/4.1-inch deep, with heights of 480mm/18.9-inch (VXL1-8), 846mm/33.3-inch (VXL1-16) and 1.2m/47.7-inch (VXL1-24). Frequency range and sensitivity are consistent across the series. All models are supplied with a bracket for seamless wall mounting, while the VXL1-16 and VXL1-24 feature dispersion expander switches, which allow the lower vertical dispersion of the array to be easily expanded without having to angle the speaker.
Optional accessories include a high impedance transformer box and range of alternative mounting brackets.
As part of Yamaha's Commercial Installation Solutions (CIS) range, VXL1 series loudspeakers are designed for seamless incorporation into CIS-based audio networks.
More: www.yamahaproaudio.com