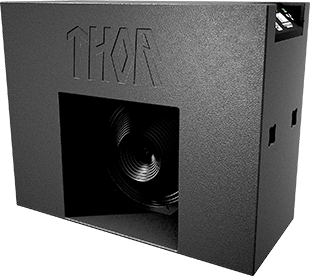 Claiming it to be 'the most advanced cinema subwoofer in the world', Ukrane company Mag Audio has released the Mag Thor.
Its frequency range of 18Hz to 120Hz and 145dB SPL peak have been achieved using a combination of Mag Audio engineering and Powersoft's M-Force M-Drive amplifier –capable of 5kW of nominal amplifier power.
'The future lies in a smarter approach to whole system design – such as modern 3D immersive sound formats or in decisively new technology – and M-Force offers a giant leap forward', says Mag Audio Audio System Engineer, Ivan Kuzmenko.
'Because of Powersoft M_Force's unique combination of massive SPL, subsonic frequency response and extremely low distortion this would give Mag Thor the capability of uncovering cinema soundtrack features that no conventional subwoofer can – detail which the film director and sound team intended while working in the studio but which are rarely available to cinema patrons. And this is the message that Mag Audio's sales team will impress on exhibitors looking to immerse their audiences in a new sense of realism.'
Explaining the role played by the M-Force transducer technology, he says: 'The Moving Magnet Linear Motor technology offers a totally different approach from conventional voice coil transducers, which have limitations. It creates the possibility of very high SPL while pushing the lower system frequency limit to the subsonic range. Furthermore, thanks to DPC technology, the Mag Thor offers dramatically reduced distortion compared to conventional voice coil based subwoofers.
'We are replacing the weakest link, the voice coil. M-Force moves a lot of air through linear displacement – which is exactly what is needed for immersive subsonic effects with modern cinema tracks.
'The transducer offers extreme reliability because of its rigid design as well as dedicated built-in amplifier with DSP, providing all necessary protection and system fine-tuning. It also had to outperform two typical dual 18-inch cinema subwoofers in terms of SPL. With 18Hz (-3dB) threshold and 145dB of peak sound pressure, these were easily achieved.'
With so much air displacement and compression, a further challenge was to assure the rigidness and structural integrity of the enclosure. Therefore Mag Thor involves harder and thicker materials and more internal bracing than a classic subwoofer of this size would require.
The new system can be retrofitted into existing cinema sound set-ups without need for a complete sound system overhaul, but due to the vibration clients will be advised to secure the enclosures firmly to the ground.
'Powersoft has a long history of bringing cutting-edge innovation into mass products, which is why we believe M-Force system will take up the leading place within premium class cinemas,' Kuzmenko adds.
Mag Audio Business Development Manager Jérôme Michel is now set to exploit the cinema market, a segment for which the company has created a dedicated website. Although based in the Ukraine, Mag Audio already has more than 300 cinema systems spread through 30 countries.
'The cinema market has been constantly evolving since the roll out of digital cinema projection more than ten years ago,' Michel says. 'Cinemas are looking to attract people with technical innovation to compete with the advanced home cinema market. We already have a couple of very serious cinemas and private demonstrations on the agenda, and our first Mag Thor reference will be an important cinema in Greece, with a projected installation of September 2017.