Danley Sound Labs has added the J6-42 'stadium-grade' loudspeaker to its Jericho Horn family.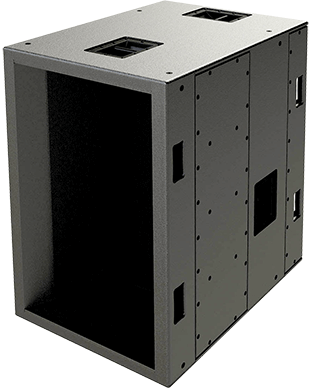 The J6-94 Jericho Horn uses Danley's new Paraline High Density (PHD) technology to deliver 6-8dB higher output and lower LF than the J3-64. Its narrow, well-defined 40x20 beamwidth and small footprint make the J6-42 well suited to end-fired scoreboard hangs or any situation where long throw and high output are required. Using Danley's patented technologies, the J6-42 combines eight 1.4-inch drivers, eight 6-inch drivers, and eight 10-inch drivers into a single phase-coherent, point-source output.
'In terms of audio purity, output, and efficiency, the J6-42 would be the ideal solution at any price,' says President/CEO, Mike Hedden. 'But compared to anything else that could even come close, the J6-42 is a total bargain. Like all Danley products, the J6-42 does what it does so well by virtue of Tom and his team's innovative acoustical designs. It's about the design of the box and the way the drivers are arranged physically. Everyone else is going down the rabbit hole of processing, processing, and more processing, which might bring some specifications in line with what Danley achieves through acoustics, but undoubtedly comes at the expense of other specifications, both measured and unmeasured.'
The J6-42 is tri-amplified and uses Danley's Synergy crossover design. The three bands combine to produce a flat and phase coherent frequency response between 50Hz and 7kHz (±3dB). Sentinel Limiter circuitry protects the drivers from damage, and the drivers themselves are designed for longevity. Sturdy 18mm birch protected by a polyurea coating makes the J6-42 weather resistant and an optional fibreglass resin finish makes it weatherproof.
More: www.danleysoundlabs.com