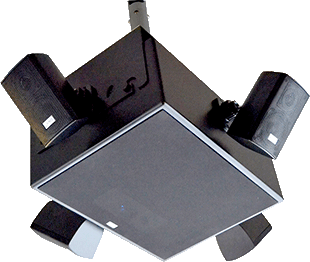 Pro audio debutante marque Larq Systems from Norway has revealed an innovative range of loudspeakers and electronics, designed for the retail, restaurant and hospitality, corporate and educational markets.
Based in Oslo, Larq Systems is a new venture for the long-established audio specialist company, Fjeldbekk AS. Its product designs are based on more than 25 years' experience in sound contracting and focus on speech and music quality, reliability, ease of use and flexible mounting; providing quality products at an affordable price level. With equal consideration to supporting its distribution channels, Larq Systems is operating a European warehouse located in Belgium.
The initial range from Larq Systems comprises three product series – the Display Loudspeaker Series, the Contractor Series of mixers and mixer amplifiers and the Mini Series ultra-compact electronics.
The Display Loudspeaker Series includes the Monitor 10, a versatile micro-cube wall/ceiling-mount satellite loudspeaker, the Monitor 20, an ultra slim display loudspeaker for integrating with interactive boards and LCD screens, and the Monitor 60P, a full-range installation loudspeaker optimised for music and presentation use in meeting rooms, auditoriums and classrooms. The DisplaySub6 subwoofer is designed to combine with the Monitor 10 to produce a flexible full-range system or be added to the other Display Loudspeaker Series models to provide systems with extended low frequency and impact.
The Contractor Series consists of the Larq CS41M, a four mic/line mono mixer/combiner, the Larq CS120M four mic/line 100V/120W mixer amplifier and the Larq CS250M four mic/line 100V/250W mixer amplifier.
The MiniAmp d5 will be the first product to be launched in the Mini Series, with additional versatile Mini products to follow. MiniAmp d5 is designed to be the perfect companion for the Display Loudspeaker Series Monitor 10 and Monitor 20 loudspeakers, with a selectable link out pre/post volume and control/VCA providing for a variety of application requirements.
'After years of planning, design and development, we are very excited to be launching Larq Systems,' says MD, Bjørn Fjeld. 'With our experience of contracting, I am sure installers and integrators will immediately recognise how we've focused on their needs and provided an innovative range of reasonably-priced, quality solutions for many of their applications.'
More: www.larqsystems.com