Wisdom Audio has launched its first in-ceiling loudspeaker, targeting 'high-performance entertainment audio applications where architectural design aesthetics can't be compromised'.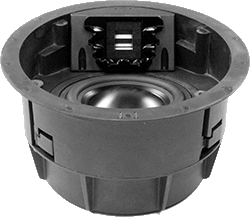 Part of the high-resolution Sage loudspeaker series, the ICS7a is an in-ceiling passive point-source unit capable of achieving high output down to 57Hz for multichannel installations in a media room or overhead channels in an immersive theatre. It is based on Wisdom's Sage P20 driver, claiming a breakthrough in the power shading capabilities of the company's planar magnetic driver (PMD). To ensure maximum clarity, the angled PMD design allows the on-axis energy to be focused straight at the listening area.
The key driver behind the development of this solution was flexibility – the reason the ICS7a uses an optional Extended Coverage Waveguide that is designed to enhance its polar pattern and allow for greater placement options. As a result, the system is a fit for applications requiring surround and overhead channels. An optional laser alignment tool (LAT-IC) – sold separately from the system – was created to assist installers in achieving ultra-precise driver orientation, improving focus and delivering incredible imaging.
'With the introduction of our Sage Series line and point-source loudspeakers, our reputation for providing superior audio within home and private theatres is unparalleled,' says Wisdom Audio MD, Luc Guillaume. 'Now we're expanding the series with the ICS7a, broadening the line-up's application flexibility and answering the need for a high-performance, architecture-friendly audio solution.'
More: www.wisdomaudio.com