Meyer Sound's Amie-Sub compact cinema subwoofer has been released to complement for the Amie Precision Studio Monitor to serve sound designers and sound editors working in smaller studios. Amie-Sub has been optimised for pairing with the Amie Precision Studio Monitor, but also works with the larger Acheron Designer screen channel loudspeakers as well as with the HMS series of surround loudspeakers.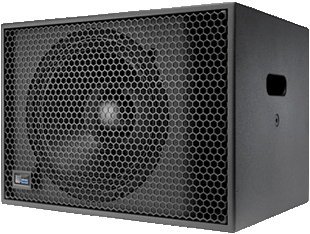 'For both artistic reasons and efficiency of workflow, it is critical that the early stages of film audio creation be monitored with precise accuracy so they will translate smoothly into the final mix,' says Meyer Sound Cinema Specialist, Steve Shurtz. 'The Amie-Sub ensures that resulting LFE content will be ideally balanced, conform to all applicable SMPTE specifications, and allow trouble-free extension into bass management techniques for surround formats.'
The Amie-Sub claims high power output and excellent transient reproduction, with ample headroom for very low distortion and a frequency range extending from 125Hz to 25Hz. The compact cabinet has an angled corner for connections, allowing placement flat against the wall in smaller production studios. An optional bracket enables ceiling mounting. A complete 7.1 system can be powered from a single electrical outlet using the PowerCon AC loop output on both the Amie-Sub and Amie loudspeakers.
With the addition of Amie-Sub, the newly complete Amie system provides a monitoring solution for small- to mid-sized film sound studios, such as those employed for initial sound design or for editing of dialogue, music or effects. Amie was designed in consultation with film sound professionals specifically for the unique challenges of small studio environments, usually with only one operator. The flat response, high headroom reserves, and precise high frequency dispersion characteristics of an Amie system assure results in tracks and pre-mixes that will require little or no re-balancing or equalisation in the final mix.
The Amie-Sub cabinet incorporates a 15-inch long-excursion driver and a convection-cooled amplifier in an optimally tuned, vented cabinet. On-board processing includes driver protection circuitry, low-pass filtering, and correction filters for phase and frequency response. The PowerCon AC input connector has a loop output for Amie loudspeakers. The standard audio input is XLR-F with an XLR-M loop output.
More: www.meyersound.com