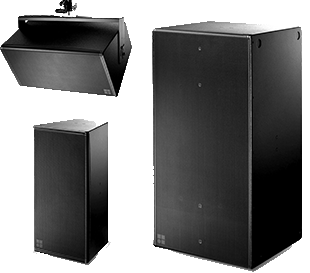 The latest additions to the company's xS-Series, d&b audiotechnik's new 24S and 24S-D point source loudspeakers are aimed at use in permanent applications including nightclubs, live performance venues, houses of worship, multipurpose centres and sports venues.
Differing only in horizontal dispersion, with 75° x 45° and 110° x 45° (h x v) respectively, the 24S and 24S-D house two 12-inch LF drivers in a dipolar arrangement and a single horn-loaded 1.4-inch exit compression driver. This HF horn is rotatable, allowing the 24S/24S-D to be mounted either vertically or horizontally. By separating the LF drivers, the design achieves constant directivity control in the same plane as the dipole down to approximately 500Hz. The result is a powerful single-box solution that avoids the transmission of energy into the reverberant field, and increases gain before feedback when working with open microphones. With a frequency response extending from 55Hz to 18kHz, 24S and 24S-D are aimed at all full-range applications.
With this bandwidth, the 24S and 24S-D point source loudspeakers are a stand-alone option, while for applications with bass heavy programme material, the 21S-Sub provides additional low end support from a small footprint. Housing a single 21-inch driver in a bass-reflex design, the 21S-Sub can be operated in standard mode, to produce a frequency response of 35Hz to 105Hz, or as a supplement to other d&b subwoofers in Infra mode, extending the LF performance to 33Hz with an upper limit of 85Hz.
In combination with the installation specific d&b 30D amplifier, the 24S, 24S-D and 21S-Sub produce 138dB SPL, 137dB SPL and 134dB SPL respectively, and serve as an alternative to a small multiple cabinet line array. The flexibility of the system makes it suited to installations where ceiling height and amplifier channel count make a line array inappropriate. With their larger cabinet volume, the 24S and 24S-D deliver an improved low-frequency reproduction for a full-range point source, yet are modest enough to preserve sight lines and overcome rigging and placement restrictions.
More: www.dbaudio.com