Martin Audio has extended its CDD install series with the introduction of weatherised variants (CDD-WR).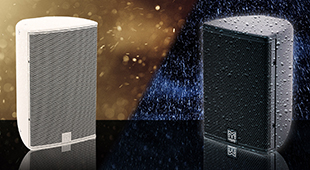 Like the majority of weatherised speakers on the market, CDD-WR loudspeakers are designed for outdoor operation where the system will be subject to changing environmental conditions, but sheltered from direct exposure to the elements. CDD-WR loudspeakers meet a rating of IP54, and are accompanied by a full range of weather-resistant mounting brackets.
The loudspeakers feature a weatherised water resistant grille made from zinc-plated mild steel with a powder-coated finish. CDD5TX-WR and CDD6TX-WR feature a dual cable gland for easy daisy-chaining of cabinets without the need for external breakout boxes, and also feature a 100/70V line transformer. CDD8-WR through CDD15-WR feature a single cable gland on the input cover and CDD10-WR through CDD15-WR are also flyable with stainless steel fixings.
Similarly, the CSX-WR subwoofers in the series are suitable for outdoor under-canopy operation and have an IP24 rating. They feature a zinc-plated mild steel grille with powder-coated finish, plywood cabinets with Polyurea finish and are flyable with stainless steel fixings.
'CDD is quickly becoming the go-to install range around the world for nightclubs, restaurants, bars, hotels, retail stores, conference spaces and houses of worship,' says Martin Audio Product Manager, David Morbey. 'Architects are happy with the combination of discreet design and the need for fewer speakers; integrators are happy because they offer exemplary performance and win more jobs with competitive tenders; and the quality of coverage and consistency not only delights the client but also their clientele. Now with the introduction of CDD Weatherised we can extend those same benefits to outdoor environments including outdoor stadia, transport hubs, concourses and theme parks."
The CDD-WR models will ship in Q2 2106.