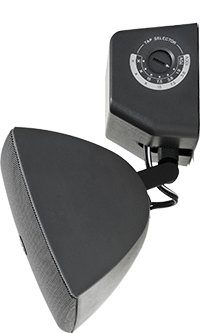 Yamaha's Commercial Installation Solutions (CIS) range has been expanded with the release of the VXS3 surfacemount loudspeakers – for small to mid-sized installations with a focus on background music (BGM), and – EN54-24 Certified VXC series ceiling loudspeakers. The CIS range is designed to serve commercial installations ranging from retail and entertainment to corporate and houses of worship.
The VXS features a curved design form that merges into the décor of restaurants, cafes or retail stores interiors. With a more compact enclosure than the VXS5 and VXS8, it offers additional flexibility for a wide range of environments, with a range that has been tuned specifically to deliver the highest-quality music playback and wide, consistent coverage even at low volume levels.
Two variations are offered to meet different installation requirements: the VXS3F and VXS3FW (white finish) are low impedance models for smaller spaces that can be serviced by a small number of speakers. The VXS3FT and VXS3FTW are high-impedance models for areas requiring a large number of speakers.
Yamaha has also announced four further EN54-24 certified VXC ceiling loudspeakers. The low profile VXC Series F models – VXC3F, VXC3FW, VXC5F and VXC5FW – are now all available in VA versions to meet European EN54-24 voice alarm requirements.
The tuning of the VXC series reckons to ive natural reproduction of both music and voices, allowing the new VA models to deliver high-quality background music during normal use, as well as clarity for emergency announcements. All VA models are lightweight with a low-profile back box, and include the same installation safety and efficiency features as the regular VXC Series F models so that installation is safe, fast and flexible.