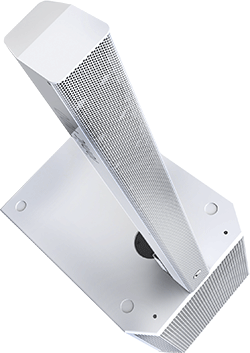 Lynx Pro Audio has released the Ionic series of column speakers for portable and permanent installation applications. The series comprises two full-range modular columns (Ionic 100 and Ionic 50) and two subwoofers (Ionic 18S and Ionic 12S).
These columns are low-profile, versatile and aesthetically pleasing, and are designed for reverberant acoustic settings where intelligible, clear voice reproduction and a low profile, discreet column are required. They are easy to install and can be mounted either horizontally or vertically.
The full-range columns can be powered from the active subwoofers and also offer various preset configurations from the integrated DSP.
Available in a variety of colours, with the full-range cabinets finished in anti-rust steel and the subs finished in rugged, premium birch plywood, coated with water-based black paint. All are protected by front steel grilles and backed with a special dark grey triple layer, acoustical textile which encourages airflow, and reduces heat and humidity.
More: www.lynxproaudio.com