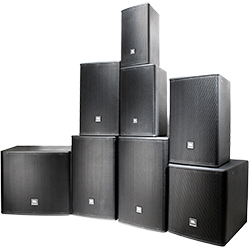 JBL Professional has expanded its range of AE Series of installation loudspeaker systems with eight new low-cost models.
The new models include six two-way, full-range systems and two subwoofer models. The AC895, 8-inch two-way and AC195, 10-inch two-way loudspeakers use a 90° x 50° rotatable waveguide. There are two new 12-inch two-way full-range systems, the AC266 and AC299, while two new 15-inch two-way full-range systems, the AC566 and AC599, use two new waveguides with coverage patterns consisting of 60° x 60° and 90° x 90°. These full-range systems include 14 M10 suspension points and four additional M10 mounting points for use when a wall mount bracket is required.
Accompanying these are the AC115S high-output single 15-inch subwoofer, and the AC118S high-output single 18-inch subwoofer. These models include 12 M10 suspension points. All models are available in both black and white textured coatings and are intended for indoor use. The line will include U-brackets and a wall mount bracket accessory for all full-range models. All models have a rugged grille design and system appearance suitable for nearly all indoor environments.
'These new low-cost AE Series loudspeakers are ideal for a range of environments including bars, restaurants, clubs, lounges, worship facilities, gymnasiums, retail spaces and education facilities,' says JBL Professional's Jon Sager. 'Their compact size provides opportunities for system designers to satisfy most architectural requirements. And, as with all JBL loudspeakers, the new AE Series models will always be ready to deliver high-quality, high-fidelity sound every time they need to.'
More:
www.jblpro.com