JBL Professional's Control HST wide-coverage loudspeaker features the first use of its proprietary HST Hemispherical Soundfield Technology, providing achieves horizontal coverage approaching 180°.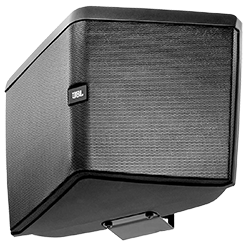 'Our Control HST not only overcomes the inherent acoustic reflections that typically occur with wall mounting, but actually makes the wall an integral part of the loudspeaker's operation,' says Rick Kamlet, Senior Manager of Commercial Sound. 'A single JBL Control HST can provide wall-to-wall coverage, which can reduce the number of loudspeakers needed for covering a space, lowering the overall cost for the sound system.'
The Control HST is intended for a wide variety of applications including retail stores, restaurants, educational facilities, leisure venues, hotels and other music and music/paging uses, and can be mounted both indoors and outdoors, as it is IP34 water-resistant rated.
The Control HST uses JBL's newly developed HST Hemispherical Soundfield Technology to achieve its extremely wide coverage of nearly 180° and eliminate the primary wall reflection that tends to cause inconsistent sound when loudspeakers are mounted to a wall. With most on-wall loudspeakers, the baffle of the loudspeaker is some distance from the wall. It is the nature of low- and low-mid-frequency sound waves to wrap around the loudspeaker, where they reflect back out from the wall and recombine with the original sound. Some of these are in phase with the output from the drivers and some are out of phase, causing reinforcement and cancellation and peaks and dips in the loudspeaker's frequency response.
By employing a wall-facing woofer, two horizontally splayed tweeters, a bracket that spaces the loudspeaker at the required distance from the wall and a tapered cabinet that provides proper loading and dispersion of the sound, the Control HST substantially reduces these inconsistencies to deliver a flatter frequency response and a more even sonic character throughout the room.
The woofer is constructed from CMMD Ceramic Metal Matrix Diaphragm material, which bonds a ceramic material outer surface to an aluminium core for a lightweight yet rigid and durable cone that delivers exceptional clarity and detail. In addition, the CMMD material provides moisture resistance. The loudspeaker's dual 1-inch CMMD tweeters feature a neodymium magnet, a polyurethane surround and ferrofluid cooling for high output with low distortion. The Control HST is capable of handling up to 100W and is equipped with a 4-pin phoenix-type removable locking connector that includes loop-through terminals for parallel connection to another loudspeaker. In addition, the Control HST provides a 60W 70V/100V multi-tap transformer for use in distributed audio applications.
The Control HST comes with a heavy-duty, weather-resistant powder-coated U-bracket with four M6 mounting points. The loudspeaker must be installed using the bracket to ensure correct spacing from the wall and proper acoustic performance. The loudspeaker should not be mounted in a corner or on a pole. The sealed, fibreglass-reinforced ABS enclosure, painted aluminium grille and weather-resistant drivers ensure reliable operation even under harsh environmental conditions. The speaker is available in black or white finish and can be painted.
More: www.jblpro.com