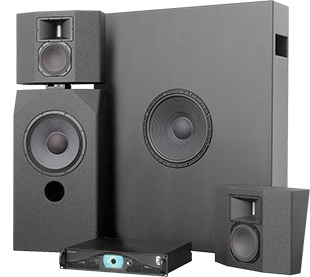 Using a proprietary ribbon mid/high-frequency transducer, Alcons' CRMSCompact; the Cinema Reference Monitor System is aimed at professional postproduction studios and screening rooms.
The system comprises main loudspeakers, ribbon surround loudspeakers, ultra-shallow subwoofers and dedicated processing and amplification. The RR12 point-source array has been developed as the 'building block' to create tight-packed arrays for controlled sound coverage in the widest variety of audience areas, where a line-array is not required. The QR24 pro-ribbon line-source column is intended for acoustically challenging rooms. The LR7 micro pro-ribbon line-array is no wider than three CDs with the industry's best 'size/weight-to-throw' ratio, suitable for A/V projects, where very compact form factor with line-array projection and imaging are required.
The Sentinel amplified loudspeaker controllers are the drive engines behind the Alcons pro-ribbon sound systems. The proprietary processors offer 4-input/4-output, 192kHz AES/EBU digital inputs, Linux-based operation, colour touchscreen and encoder control, and deliver up to 10kW.
With Architect Colour Option (ACO), any Alcons system can be ordered in more than 180 different RAL colours, allowing it to blend into any type of décor.
More: www.alconsaudio.com