Vue Audiotechnik has extended its flagship h-Class family of loudspeakers with the ultra-compact h-5, targeting theatres, houses of worship, front fill and under-balcony systems, portable and installed A/V systems, corporate A/V. It is well suited to stage lip and under-balcony applications to cover hard-to-reach, areas left uncovered by the main system.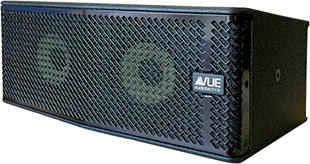 Compact and lightweight, the h-5 combines two 5-inch low-frequency transducers with a 1-inch exit compression driver with a Truextent beryllium diaphragm, which allows the driver to deliver improvements in frequency extension and response linearity. The compression driver is mounted to a new, Mike Adams-designed, precision horn with very wide 120° x 40° (HxV) coverage.
Onboard electronics include the 64-bit digital processor from the larger h-12 and h-15 systems for networking and DSP programmed to address every element within the h-5 ecosystem. The processor handles EQ, time alignment, crossover management, and speaker protection, as well as SystemVue network control and monitoring functions.
Dual-channel, high-efficiency amplifiers drive the transducers without noisy cooling fans. A lightweight, fully-protected, switch-mode power supply with auto voltage detection provides worldwide operation with universal mains operation from 85V to 260V.
The h-5 drivers and electronics are housed in a robust birch enclosure that includes integrated M10 hanging points, and optional yoke mount and rigging hardware for easy deployment as a main system, on lighting grids, or in a variety of support configurations. The grille is coated with a two-part, polyurethane finish that lays a transparent candy-apple red coating over a base coat of black. All h-Class enclosures are manufactured to ISO standards, using multi-ply, cross-grain laminated birch with extensive interior bracing for resonance-free operation.
Key features:
· Ultra Wide 120º x 40º coverage.
· Neodymium HF compression driver with Truextent beryllium diaphragm.
· Dual-channel, high-efficiency fan-less amplifiers.
· Integrated DSP with SystemVue network control and monitoring.
· Integrated M10 hanging points, and optional rigging hardware.
'The h-5, like our larger h-Class models, is born out of our "no compromises" design philosophy,' says Vue CEO, Ken Berger. 'We literally re-examined everything, from transducers, electronics, and DSP, all the way to mechanical deployment and remote management capabilities. It's a comprehensive approach that can only be done when you start with a clean slate, and leverage the most advanced technologies available. The net result is an exceptionally capable combination of size and versatility.'
More: www.vueaudio.com