Spanish manufacturer Work Pro has made two additions to its Neo range of installation loudspeakers – the Neo 5 A ES and Neo 5 IP. Supplementing the existing two-way Neo full-range models and subwoofer, the new speakers are designed for installed sound applications and can be used in low-impedance or 100V installations.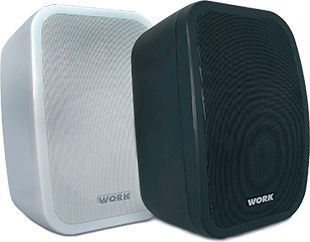 The Neo 5 A ES is an updated version of the Neo 5 A self-powered compact installation speaker, with an added 'eco-friendly' energy-saving mode which saves on power consumption. When not receiving audio signals, the speaker goes into shutdown mode, reducing its consumption to below 1W.
Neo 5 IP is the two-way passive model of the Neo range, and is rated IP65 on the industrial Ingress Protection scale, making them dustproof and resistant to light water jets. It is suited to professional use in outdoor installations exposed to the weather – terraces, restaurants, hotels and shopping centres.
Both Neo 5 IP and Neo 5 A ES are available in either black or white to blend in with the requirements of the installation, and are supplied with the bespoke Neo mounting bracket which allows the speakers to be flexibly positioned at any angle to maximise coverage.
'Our customers have been asking for a weather-resistant addition to the Neo range,' says Work Pro, VP of Product & Marketing, Juan José Vila. 'Similarly, a power-saving version of the speaker suits many installers, integrators and end-users where speakers do not need to be constantly active. The new speaker address both of these needs.'
The Neo 5 A ES and Neo 5 IP are available for order now, with stock expected in mid-December 2014. Shure Distribution UK (SDUK) is the exclusive distributor for Work Pro in the UK and Ireland.
More: www.equipson.es
More: www.shuredistribution.co.uk